Fairy Tail Movie
Type: Movie
Episodes: 1
Status: Not yet aired
Aired: Aug 18, 2012
Producers: Satelight, A-1 Pictures
Genres: Action, Adventure, Comedy, Fantasy, Magic, Shounen
Duration: Unknown
Rating: None

The film revolves around a mysterious girl named Éclair who appears before Fairy Tail, the world's most notorious wizard's guild. She lost all of her memories, except for the imperative that she must deliver two Phoenix Stones somewhere. The stones may spell the collapse of the magical world, and Natsu, Lucy, and the rest of the Fairy Tail guild are caught up in the intrigue.

According to Comic Natalie, a movie of "Fairy Tail" was announced to be premiered on August 18th 2012.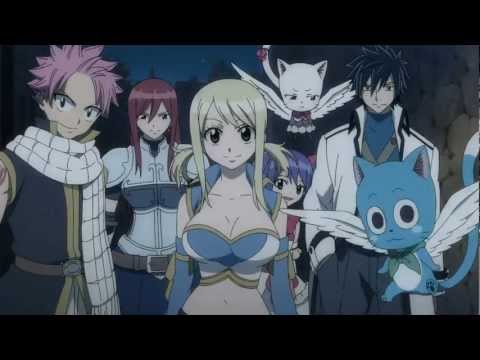 Translation:
Narrator: The Magic Guild…
Narrator: Fairy Tail
Narrator: Year X791 another battle has started
Narrator: Fairy Tail's strongest team meets a mysterious girl, Eclair
Happy: Don't do it Natsu
Natsu: Who the hell are you!
Gray: What kind of magic is that!
Erza: Master is that…
Wendy: How could this happen?
Lucy: You, where did you come from?
Lucy: A magic human pheonix…
Lucy: What do you mean?
Narrator: She seeks the road ahead
Narrator: Just a moment ago
Narrator: Lucy: A-all magic… and it's evil?
Natsu: I will definitely kick your ass, for my friends!
Narrator: Fairy Tail the Movie, Houou no Miko
Narrator: To be premiered on August 18th 2012